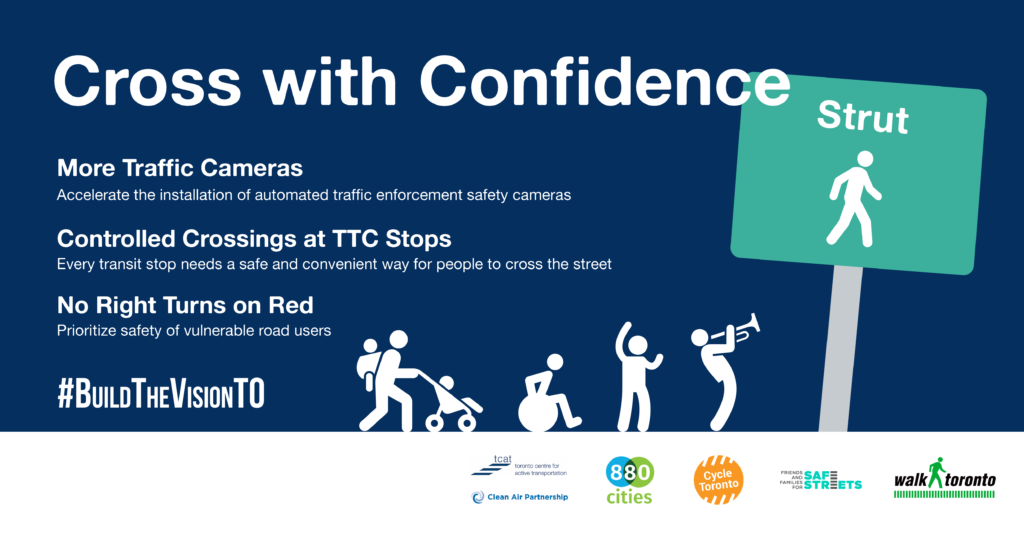 You can help build safe and active streets for all ages by supporting candidates for council who are pedestrian and cyclist friendly.
Walk Toronto has partnered with other active transportation and safety groups to create #BuildTheVisionTO, a campaign to make walking and cycling initiatives a key part of the current municipal election campaign.
Here are four questions Walk Toronto contributed to the campaign. Ask your council candidates about these ideas when you see them on your doorstep, in the street, or at an all-candidates' meeting.
Do you support building sidewalks on every street being reconstructed?
Do you support ensuring that sidewalks have a minimum 2.1 metre pedestrian clearway on all arterial and collector roads?
Do you support prioritizing the safety of vulnerable road users by outlawing motor vehicle right turns on red lights?
Do you support implementing controlled crossings at all bus and streetcar stops?
For the complete set of questions, see the #BuildTheVisionTO one-pager (PDF) on the Toronto Centre for Active Transportation website.